Contact us about this product
Weighing bellows for weighing, mixing and filtering machines in the food industry.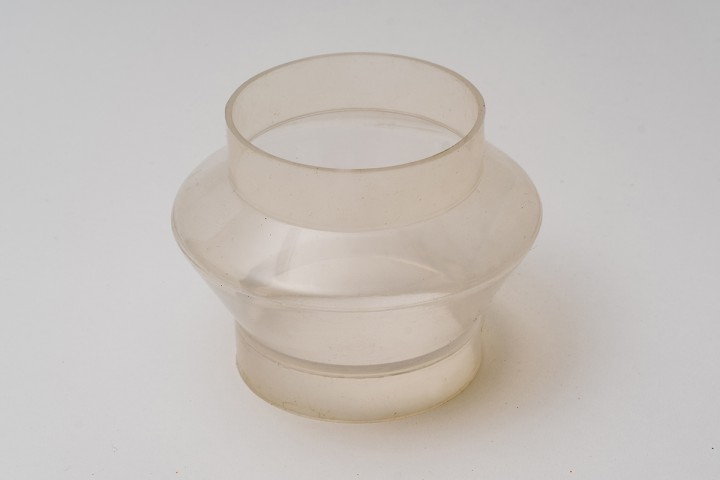 Product description
Arubis weighing bellows are the flexible part that will often be found as the connection in mixers, feeders or any type of weighing or supply machine. This connection produces almost no reactive force and has no influence on the weighing principle.
Can be made in any custom size to create an exact fit
FDA approved and anti static
Shape prevents any residual substances
Industry use
These custom made silicone bellows are FDA approved and are suitable for use with foodstuff. The shape prevents any residue to stay in the weighing bellows and provides a long life with little to no maintenance. The flexible weighing bellow does not influence the original task of the machine and will not influence weighing, and thus providing excellent negative pressure resistance. Sound and vibrations will not be transferred.
Easy to install
The Arubis flexible connectors are based on several standard connections and coupling systems. No tools are needed to ensure an airtight fit.
Easy to clean, improve your downtime
A connection on any type of machine will need maintenance, and even though the maintenance will be minimal with the Arubis weighing bellow, we have ensured an easy cleaning process thanks to the anti static surface. We thrive to have minimal downtime in any production plant while containing an optimal hygiene.
An efficient connection
The best way to clean rubber hoses is to reduce time and costs in the same process. With the use of rubber sponge balls you can even reduce water and chemical compounds usage.
Standard characteristics
| Article | Diameter (mm) | Inner Diameter (mm) | Thickness (mm) | Hardness (kg/m3) | Max. Temperature | Rubbertype | Color | FDA |
| --- | --- | --- | --- | --- | --- | --- | --- | --- |
| AW050SIC | 50 | - | - | - | - | VMQ | Transparent | |
| AW060SIC | 60 | - | - | - | - | VMQ | Transparent | |
| AW075SIC | 75 | - | - | - | - | VMQ | Transparent | |
| AW100SIC | 100 | - | - | - | - | VMQ | Transparent | |
| AW100VIB60 | 100 | - | - | - | - | FPM | Black | |
| AW114SIC | 114 | - | - | - | - | VMQ | Transparent | |
| AW140SIC | 140 | - | - | - | - | VMQ | Transparent | |
| AW150SIC | 150 | - | - | - | - | VMQ | Transparent | |
| AW200EPBA | 200 | - | - | - | - | EPDM | Black | |
| AW200SIC | 200 | - | - | - | - | VMQ | Transparent | |
| AW250SIC | 250 | - | - | - | - | VMQ | Transparent | |
| AW300SIC | 300 | - | - | - | - | VMQ | Transparent | |
| AW350SIC | 350 | - | - | - | - | VMQ | Transparent | |
Documents
Catalogs
Available qualities