Neem contact met ons op over dit product
Ballen gemaakt voor het continu reinigen van zeven zonder onderbrekingen.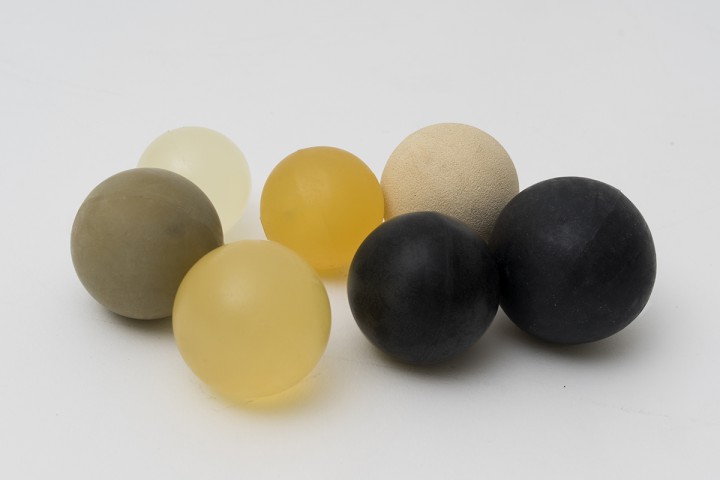 Beschrijving
De verblinding of opbouw op een vibrerend scherm kan een lastige ervaring zijn voor elke productielijn in de zeefindustrie. Het is de oorzaak van onnodige downtime en een daling van het aantal productie. Arubis biedt een oplossing om de productie te verhogen met deblinde schermreinigingsballen.
Grote verscheidenheid aan verbindingen om aan uw behoeften te voldoen
Aangepaste maten op aanvraag
Hoge kwaliteit en lange levensduur
De meest efficiënte manier om zeven schoon te maken en de-blind te maken
Reinigingsballen zijn de gemakkelijkste manier om zeven of netten in elk type productielijn te reinigen. De diversiteit aan verbindingen voor deze rubberen ballen zorgen ervoor dat een oplossing voor elke specifieke industrie kan worden geleverd.
Verkrijgbaar in verschillende verbindingen
De reinigingsballen van het Arubis-scherm zijn er in veel verschillende kwaliteiten en samenstellingen. Elk komt met verschillende voordelen en toepassingen. Neem gerust contact op met Arubis voor vragen over de keuze van de compound voor uw bedrijfstype.
Verschillende soorten en vormen
Deblindingballen kunnen op verzoek en in elke vorm worden geproduceerd. Standaardproductie omvat parallellepipedum-balletjes en speciale ballen met eivormen. Deze ballen hebben een ongelijke vorm en stuiteren willekeurig, waardoor gebieden in het gaas worden bereikt waarin normale ronde ballen niet zouden slagen.
Standaard kenmerken
| Article | Diameter (mm) | Diameter binnen (mm) | Dikte (mm) | Hardheid | Max. Temperatuur | Rubbertype | Kleur | FDA |
| --- | --- | --- | --- | --- | --- | --- | --- | --- |
| AB12PUC80 | 12 | - | - | 75 | - | PU | Semi_transparent | |
| AB16DEL | 16 | - | - | - | - | | | |
| AB16NRB55 | 16 | - | - | 55 | - | NR | Black | |
| AB16NRW50 | 16 | - | - | 50 | - | NR | White | . |
| AB16PUC80 | 16 | - | - | 75 | - | PU | Semi_transparent | . |
| AB16SIW50 | 16 | - | - | 50 | - | NR | White | . |
| AB18DEL | 18 | - | - | - | - | | | |
| AB18NRW50 | 18 | - | - | - | - | NR | White | |
| AB18NRW90 | 18 | - | - | 90 | - | NR | White | |
| AB18SIC60 | 18 | - | - | 60 | - | VMQ | Translucent | |
| AB20NRW55 | 20 | - | - | 55 | - | NR | White | . |
| AB20PUC80 | 20 | - | - | 80 | - | PU | Clear | |
| AB25CRB60 | 25 | - | - | 60 | - | CR | Black | |
| AB25CRW55 | 25 | - | - | 55 | - | CR | White | . |
| AB25NRB55 | 25 | - | - | 55 | - | NR | Black | |
| AB25PBBR60 | 5 | - | - | 60 | - | NR | Black | |
| AB25PUC50 | 25 | - | - | 55 | - | PU | Clear | |
| AB25PUC60 | 25 | - | - | 60 | - | PU | Clear | |
| AB25PUC80 | 25 | - | - | 75 | - | PU | Clear | |
| AB25SIC60 | 25 | - | - | 60 | - | VMQ | Translucent | . |
| AB25SIW40 | 25 | - | - | 40 | - | VMQ | White | . |
| AB26NRBL50 | 26 | - | - | 50 | - | NR | Blue | |
| AB26NRR50 | 26 | - | - | 50 | - | NR | Red | . |
| AB26NRW50 | 26 | - | - | 50 | - | NR | White | . |
| AB26NRY50 | 26 | - | - | 50 | - | NR | Yellow | |
| AB27.5EPB50 | 27 | - | - | 50 | - | EPDM | Black | |
| AB27.5EPB55 | 27 | - | - | 60 | - | EPDM | Black | |
| AB27.5NRB55 | 27 | - | - | 55 | - | NR | Black | |
| AB27.5NRBL50 | 27 | - | - | 50 | - | NR | Blue | . |
| AB27.5NRO50 | 27 | - | - | 50 | - | NR | Blue | . |
| AB27.5NRW60 | 27 | - | - | 60 | - | NR | White | . |
| AB27.5NRY50 | 27 | - | - | 50 | - | NR | Yellow | . |
| AB28PUC75 | 28 | - | - | 75 | - | PU | Semi_transparent | |
| AB30NRW50 | 30 | - | - | 50 | - | NR | White | . |
| AB30PUC50 | 30 | - | - | 55 | - | PU | Clear | |
| AB30PUC70 | 30 | - | - | 75 | - | PU | Clear | |
| AB30SIW50 | 30 | - | - | 50 | - | VMQ | White | . |
| AB35CRW55 | 35 | - | - | 55 | - | CR | White | . |
| AB35NRB55X | 35 | - | - | 55 | - | NR | Black | |
| AB35PUC75 | 35 | - | - | 75 | - | PU | Clear | |
| AB35SIW50 | 35 | - | - | 50 | - | VMQ | White | . |
| AB40NRB55 | 40 | - | - | 55 | - | NR | Black | |
| AB40PUC70 | 40 | - | - | 75 | - | PU | Transparent | . |
| AB40SIW60 | 40 | - | - | 60 | - | VMQ | White | |
| AB50CRW55 | 50 | - | - | 55 | - | CR | White | . |
| AB50NRB50AS | 50 | - | - | 50 | - | NR | Black | |
| AB50NRW50 | 50 | - | - | 50 | - | NR | White | . |
| AB50PUC70 | 50 | - | - | 70 | - | PU | Clear | |
| AB50SIB60 | 50 | - | - | 60 | - | VMQ | Black | |
| AB50SIW40 | 50 | - | - | 40 | - | VMQ | White | |
Documents
Catalogi
Beschikbare kwaliteiten